– During my trip to Brussels, I was lucky enough to be a guest of The Hotel Brussels, but all opinions presented in my post are my own and shaped by my experience at the hotel. –
Well after being in Brussels for a few days, we changed hotels and ended up at The Hotel Brussels. The Hotel is a 4 star luxury hotel and crosses the skyline of Brussels. You can see it from so far away, so it's almost like a guiding light for anyone staying there. At 94 meters tall, The Hotel is larger than most buildings around it, but still manages to tuck itself into Brussels. It's surrounded by many high-end shops. It's still close to Ixelles near the Louise station, so if you can find something for just about any budget. The space is beautiful and the hotel takes your breath away the moment you step out of the revolving door.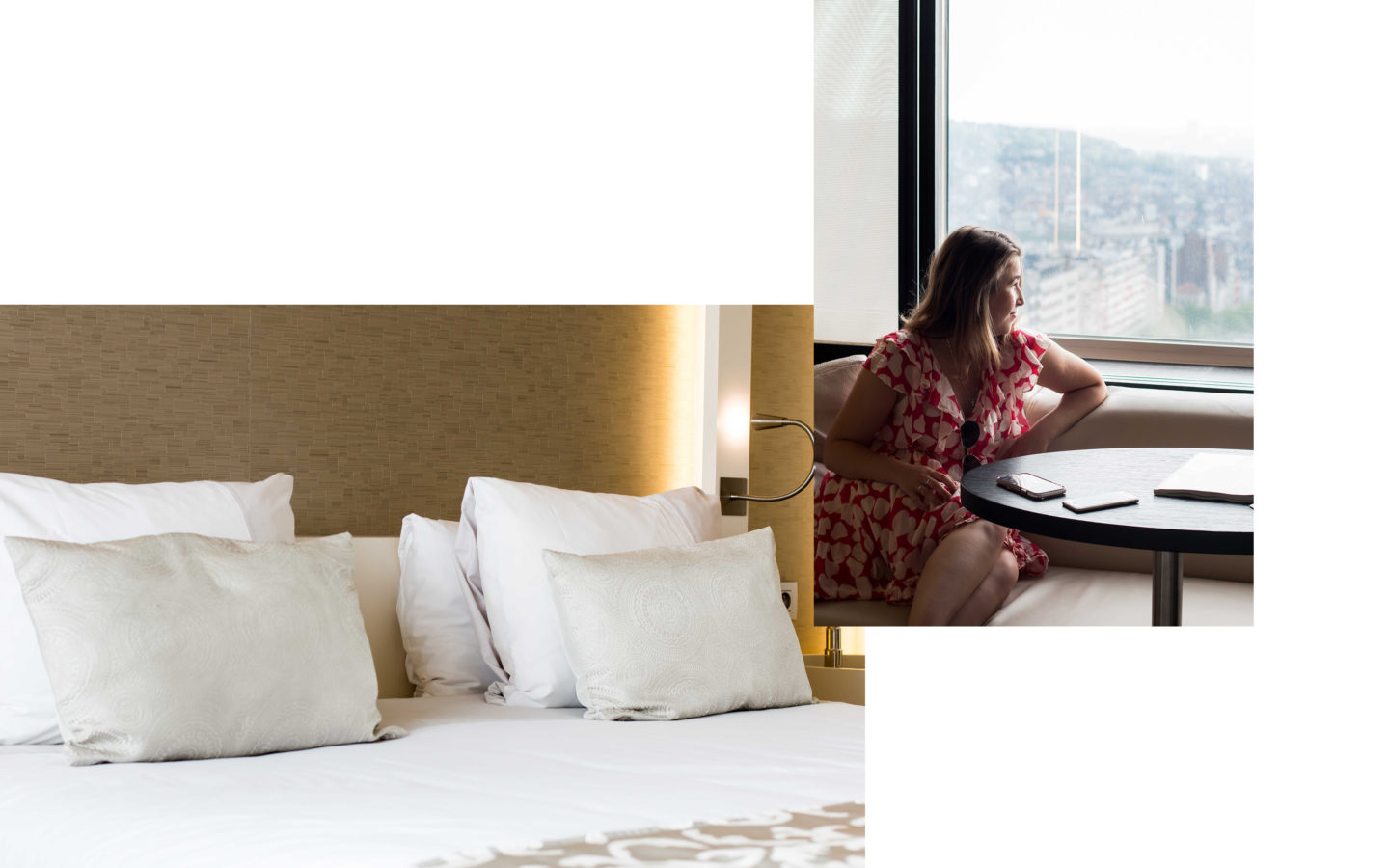 1. The Room
Okay, so remember when I said that sometimes less is more? Well, I also do not mind having some space to stretch my legs. The Hotel gave me way more than a little extra space, the room was massive. I think our faces were stuck in the gasping emoji style for about 10 minutes after we arrived. The room had a massive bed, en-suite bathroom, and a couch with a magnificent view over Brussels.
Our side had a fantastic view of the Palais de Justice. As someone who may go into international law, it was a great view to have. If you're interested in sightseeing from that couch, use the spyglass that they have in the room as well! Maybe you'll be able to see the royal palace and other spaces from the comfort of your room!
The bathroom in our room was fabulous as well, with C.O. Bigelow goodies to make sure we smelled fresh our whole trip, but also these fabulous robes and probably the softest slippers I've ever walked on. Eden and I had gin & tonics in robes on our last night and it was such a fun time and way to spend girl time. The rain shower is always a good luxury addition. For those who don't want to wet their hair, The Hotel provides a vanity kit with shower caps and other necessary items that you may have forgotten.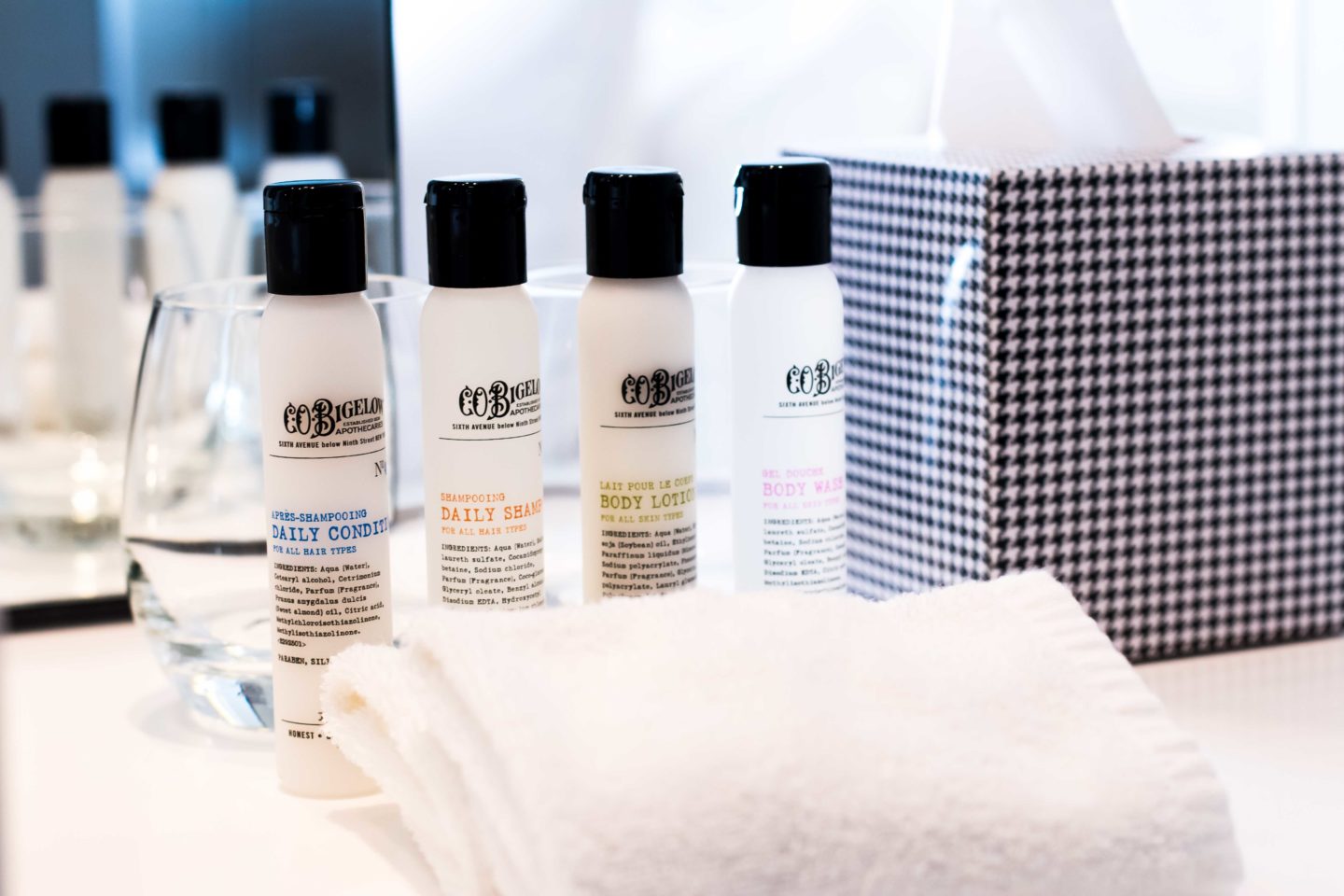 There was a free minibar, filled with snacks and drinks. This really allowed us to relax once we got back after walking 5-15 km per day. Because the room is so high up, you do need shades to keep out the 5:30am sunrise, but the blinds at The Hotel are more than magnificent. In the luxury style, you could put the blinds up or down with the touch of a button, same with turning the lights on or off. The room lets in so much light, while creating an inviting space for you to enjoy during your time.
If you travel with a million pieces of tech like I do, The Hotel has a lot of outlets, USB ports, and charging spaces available in your room to make sure your devices are fully charged throughout your stay. Did I mention the free Wifi throughout the hotel? Our room was mostly monochromatic, which a touch of gold, which is standard around the hotel. As a minimalist, my little heart was fluttering with love when I walked in, just saying. As a whole, The Hotel has nailed the luxury element, while still providing the beauty of Brussels.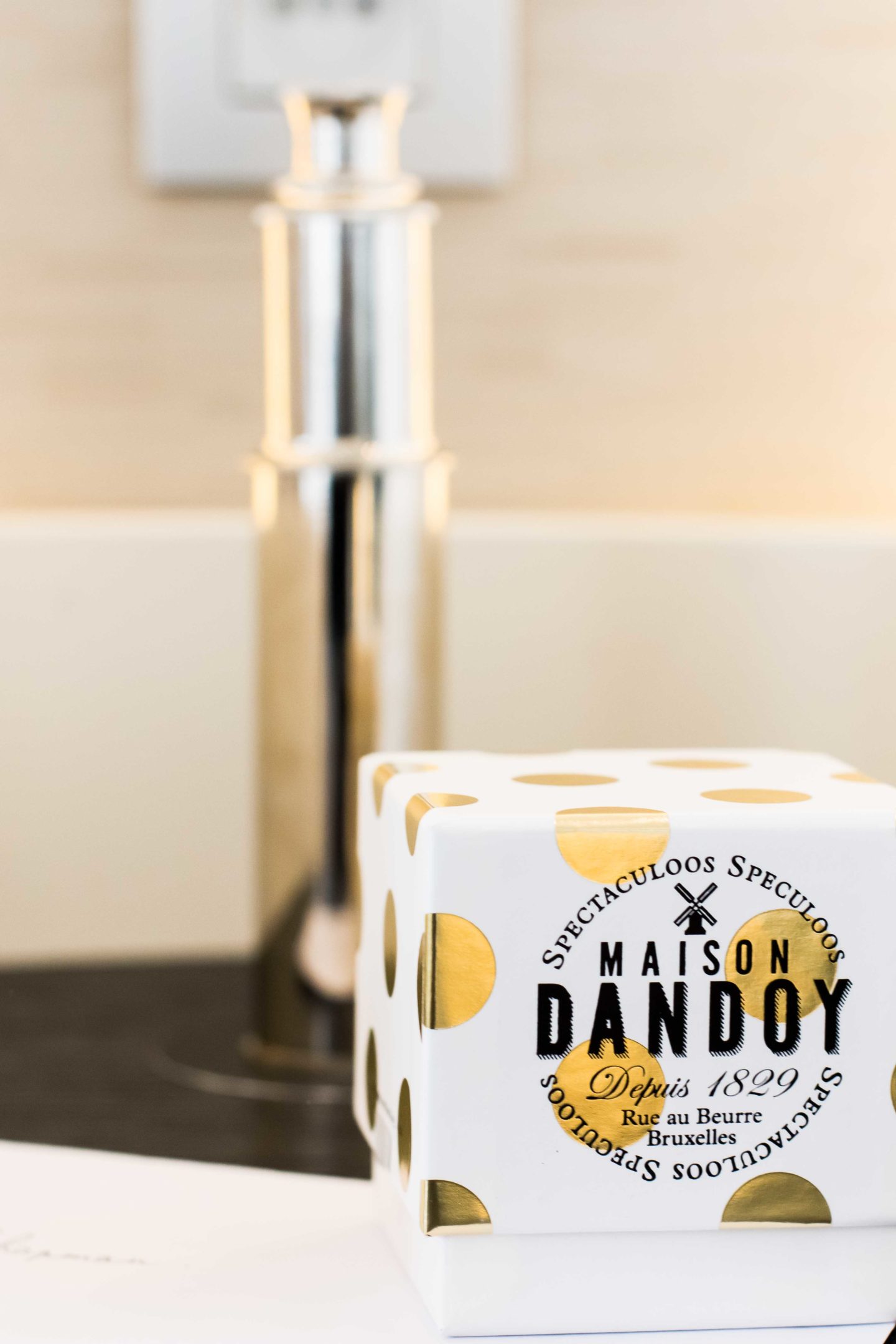 2. Amenities
Staying at The Hotel, you have access to a whole host of amenities. I'll start off with the gym/spa. Part of my gym routine when I had a membership involved a sauna, allowing me to sweat out the toxins of the day after my workout. The Hotel has a gym/sauna where I can get my workout on, but also sweat it all out with a fantastic view of the other side of the hotel. There is a hammam and showers in the spa for to clean up in after a work-out. With Wall to Wall windows, the gym allows you to get a bird's eye view while you exercise.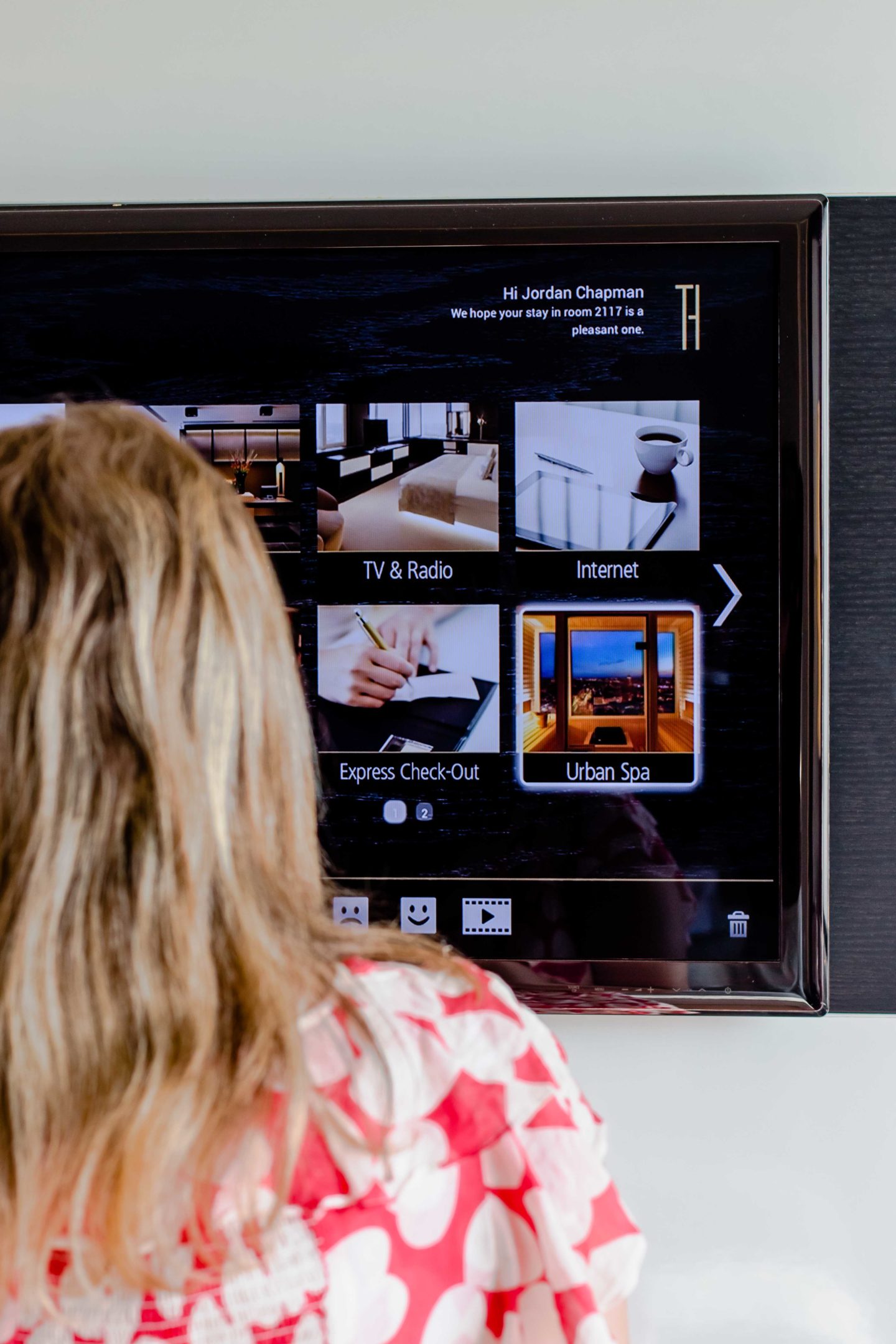 For people who have booked a Deluxe Panorama or suite, you'll have exclusive access to the Panorama Lounge on the 24th floor. Full of bites to eat with a fantastic view of Brussels: perfection. It's open at 7 to 10pm (7h00-22h00), so you could eat breakfast there, while enjoying the view and reading a magazine. The Hotel's staff is all very welcoming and friendly, even leaving us a little box of biscuits when we arrived and helping me find some stamps to send off postcards before I left Brussels! The Hotel also provides breakfast in the morning, with a lovely view of the park behind the hotel. I got to practice my French while speaking and they were very nice and made sure that I understood everything. We ate some yogurt, fresh juice, fresh fruit, and pastries for breakfast while reading the NYT.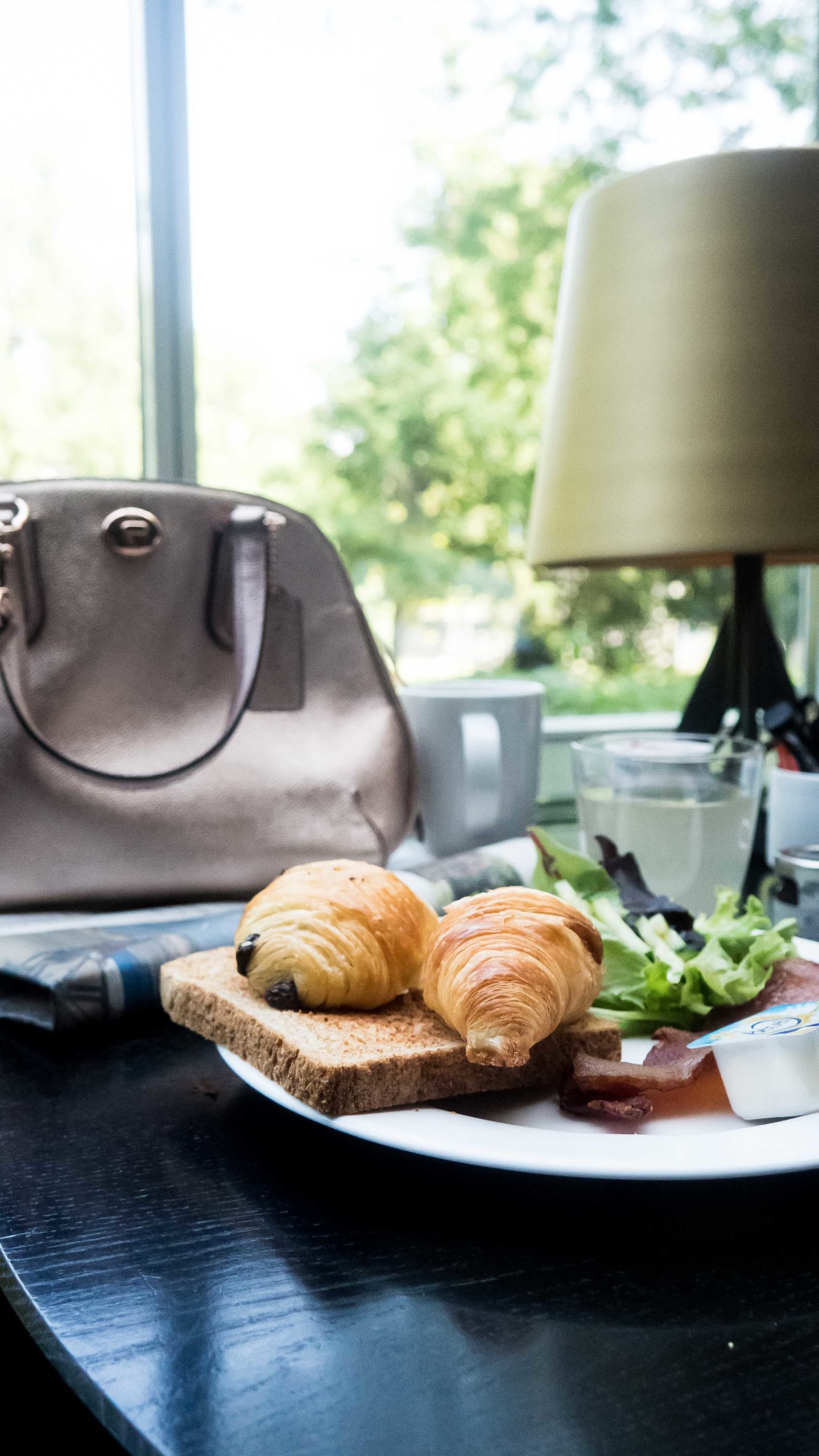 3. Location
Just behind the Louise station, The Hotel is located off the Boulevard de Waterloo, next to boutiques such as Jimmy Choo, Moncler, LV, and more. Just next to The Hotel lies the Salon neighbourhood, where you can find antiquities and chocolateries to fill your heart's desires. Trains and trams are about 5-7 minutes walk away, so easy transport access. While staying there, you are just minutes from the main attractions in Brussels, close to all museums and many restaurants. If you're a bike lover, there's a parking zone just near Louise, so no worries about walking too far. If you're a park lover, you're in luck as there's a beautiful park just behind the hotel.
4. Cost & Value
Rooms start off at around 127€ ($147 on May 29, 2018), but you are getting your money's worth. This is the type of hotel that I would normally stay at if I was in Brussels for business because the monetary cost is greatly outweighed by all that you're provided at The Hotel. It's a spectacular stay for the cost and while some hotels will charge more for less, The Hotel makes sure that you get what you pay for: an amazing stay.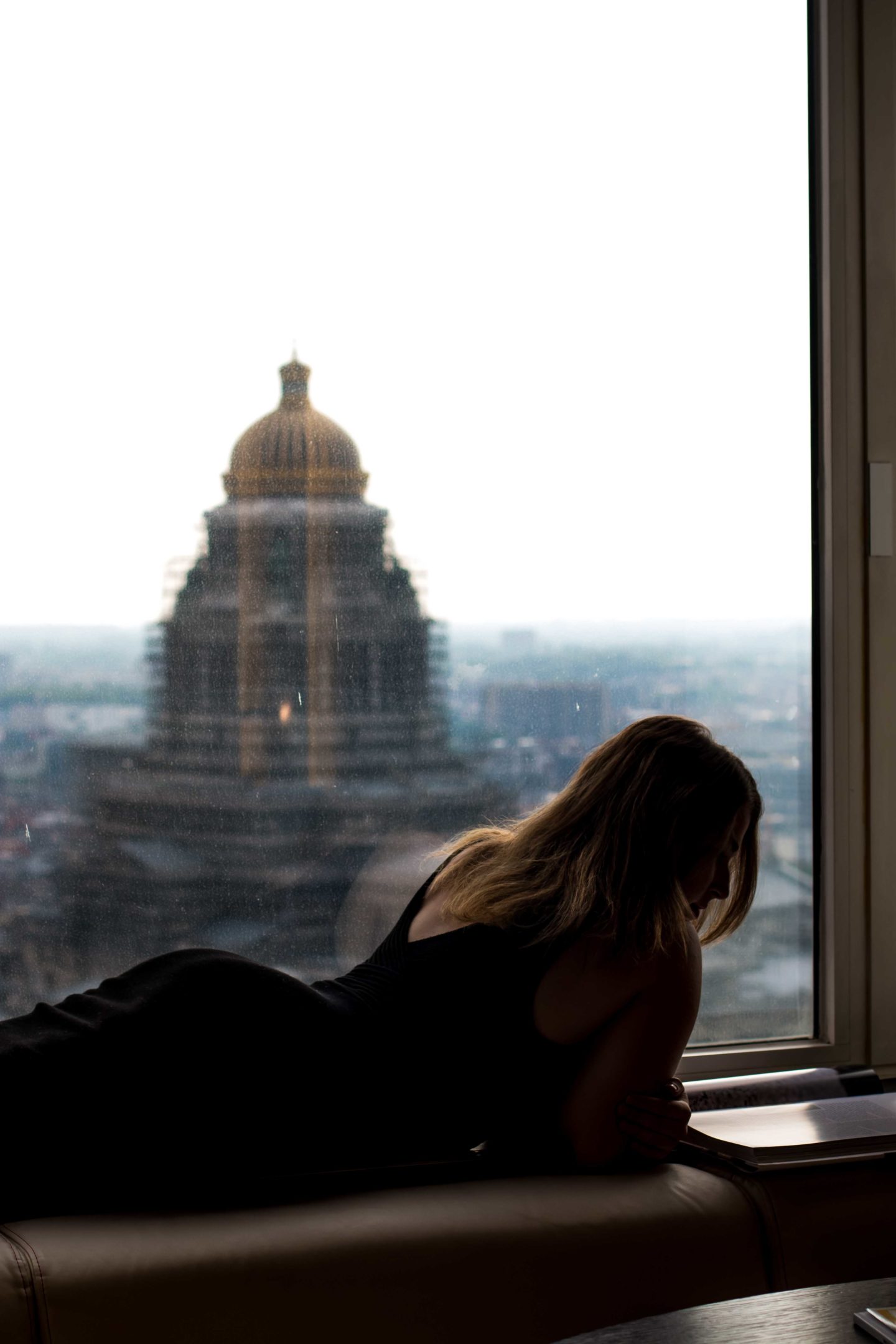 5. Overall
Overall, I loved The Hotel. I wish I could have stayed longer there because it blew me out of the water. It was an amazing experience with a view that will take your breath away. The vibe of the hotel is young and vibrant, but also calm and relaxing as well. I can definitely see The Hotel as a place for both work and play, where you can get your work meetings done in one of their conference rooms, but at night, go to the bar and enjoy yourself. If you're a business traveler, look no further! Even if you're there with a significant other, I definitely recommend it. You're gonna need someone to take all of your IG photos because this is a hotel is a dream.